Our Mission is to provide quality hair products that work while sharing hair education and supporting female entrepreneurship.
In 2018, at the young age of 23, I started on a journey that would change my life forever. My daughter, just six months old at the time, was my guiding light and the reason behind my decision. You see, two months after she was born, I found myself facing an unexpected. problem - I was let go from my job because of the breastfeeding challenges I was navigating. It was in that moment of uncertainty that I made a promise to myself and my daughter to never
let a job determine how we would eat again. I decided to channel my resilience, determination, and love for her into building something amazing. With only about $500, I began my venture,
selling haircare products from the trunk of my car with my daughter Nyla by my side every step of the way.
Those early days were humbling, to say the least. But they were also filled with a burning passion for my dreams.

Fast forward to today, my journey has taken me to unimaginable heights. I've transformed my small startup into a business in demand that ships to every state of the United States and even
reaches across international borders. You can find my products gracing the shelves of 50 beauty supply stores nationwide. It all started with just one store in my hometown, Chester Pa. Grow & Flow has been nothing short of a rollercoaster ride, filled with challenges and triumphs, tears and laughter. But, I wouldn't change it for the world. Every product I create, every sale I make, is a testament to the resilience of a young mother who refused to be defined by by circumstances and environment. So, when you choose to support Grow & Flow, you're not just buying haircare products. You're becoming a part of our story. You're helping a single mother beat the odds and build a better future for her child while continuing to shift the culture and promote black female entrepreneurship. Together, we're not just growing hair; we're growing dreams, love, and hope.
Thank you for being a part of the Grow & Flow family.
Shop Now
At Grow & Flow, we believe in the power of giving back to the community that has supported us on our journey. Our commitment to making a positive impact is at the heart of everything we do. Here's how we're giving back and making a difference in our hometown of Chester, PA:

Back to School Bookbag Drive:
Every year, we organize an annual back-to-school bookbag
drive. In the past year, we proudly distributed 300 bookbags loaded with essential school supplies, haircare products, and our very own Grow & Flow goodies. This event wouldn't have been possible without the incredible support of our local beauty supply partners.

Upcoming Pre-Halloween Family Event:
We're excited to announce that on October 14th, we will be hosting an upcoming pre Halloween event for families in our community. We're gearing
up to provide free candy, Halloween hair goodies, and glow-in-the-dark beads to make this upcoming Halloween extra special for everyone. It's our way of spreading joy and getting ready for the spooky season together!

Empowering Women Entrepreneurs:
We are strong advocates for women empowerment. In the
past, we've held events to uplift and inspire women in business. As part of our commitment, we
awarded $500 to a deserving entrepreneur, helping them invest in their dreams and aspirations.

Supporting Local Businesses and Causes:
Every year, we make it a point to give back to at
least five businesses or causes in our beloved Chester, PA. Whether it's through donations or collaborative efforts, we're dedicated to making a meaningful difference. At Grow & Flow, we don't just see our community as a place where we do business; it's our home, our family.
We're committed to creating a positive impact and fostering growth and harmony. Together, we're not just growing our business; we're growing and flowing with our community.
"All your hair needs to grow is love, patience and grow & flow."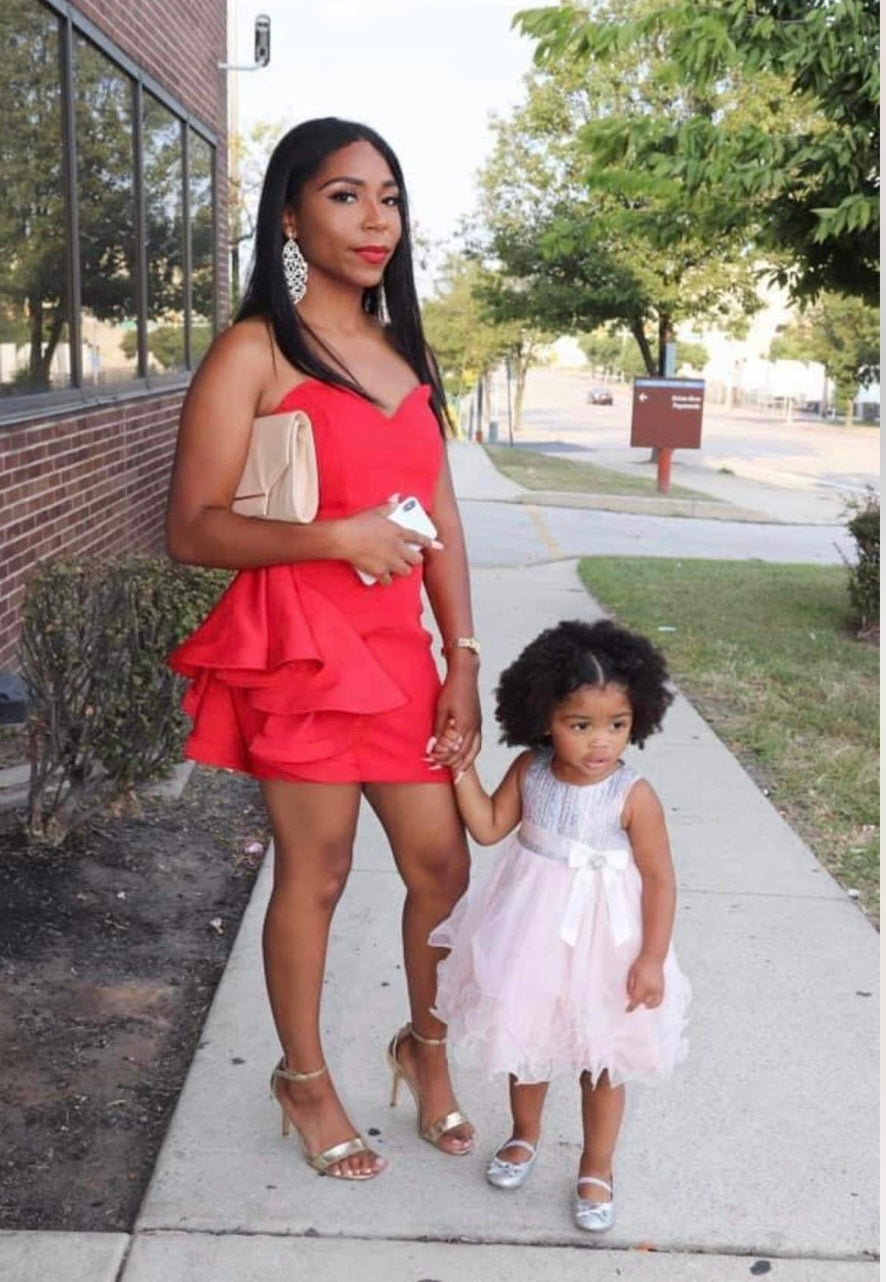 Nurturing Hair and Confidence for Moms with Kids
An Enjoyable Experience with Grow & Flow.
At Grow & Flow, we have crafted products with a special focus on black moms with kids.
Our journey began with a powerful mission: to change the narrative.
We were tired of the struggles
many black moms face in maintaining their hair, keeping it moisturized, detangled, and promoting healthy growth. These are the very challenges we set out to address, and it's what defines our company.
We believe that all hair is good hair.
Our products are designed with the unique needs of black moms in mind, celebrating the beauty of natural hair in all its forms. We understand the importance of self-care and the confidence that comes with having hair that looks and feels great. But we're not just about products and natural ingredients; we're about creating an enjoyable experience. We know that many kids dread getting their hair done because it can be painful and uncomfortable. Not with Grow & Flow. Our products are carefully crafted to make hair care a breeze, even for the little ones. Plus, they smell absolutely amazing, making the experience that much more enjoyable.

We're here to support you on your hair care journey, ensuring it's a positive and pleasant one. If you have questions about which products to try or need advice on creating a hair regimen that works for you and your little ones, don't hesitate to reach out. We're here to guide you every step of the way. We've also had the pleasure of hosting mommy & me events in the past, where we celebrate the beauty of natural hair, boost hair esteem, and make the experience fun for kids. It's all part of our commitment to empowering and uplifting the black mom community.

At Grow & Flow, we're not just in the business of hair care; we're in the business of confidence, self-love, and making hair care an enjoyable experience, because all hair is good hair. Join us on this journey, and let's nurture your hair and your confidence together!
Together we can make it Happen!
Building a business isn't just about hair care for us at Grow & Flow – it's about empowering women, especially black moms, to succeed as entrepreneurs. We understand the unique challenges and aspirations that come with being a black mom striving to make your mark in the business world because, well, we've been there.

We firmly believe that if we can do it, you can do it too. Our journey has led us to help other women kickstart and grow their own beauty product lines and get their products onto store shelves. We've walked the path of entrepreneurship, and we're here to share our knowledge,
experiences, and insights to inspire and guide you. If you dream of having your products on store shelves or creating your beauty brand, know that you're not alone.
Join our vibrant community on Facebook in the Grow Girl Academy, a space where you can connect with like-minded individuals, access valuable resources, and receive direct support from us. It's a place where you can learn, grow, and empower yourself to turn your aspirations into reality.
We've felt the struggle and the determination of being black moms building businesses, and
we're passionate about fostering female entrepreneurship. We invite you to join us on this
exciting journey of growth and empowerment, where together, we can make it happen!
Join Our Facebook Group