Grow & Flow Moisture Boost Kit
Regular price
$0.00 USD
Sale price
$38.97 USD
Unit price
per
Sale
Sold out
Give your hair the moisture boost it's been missing with our Moisture Boost Kit. It includes your top three wash day essentials: Leave-in detangling hair mist, Deep-Cleansing Shampoo and Moisturizing & Detangling Conditioner. 

Size: All hair goodies are 8 oz each. 
For all hair types. Women, children and men can use these hair goodies. 
For best results: 
Apply the detangling conditioner to your hair FIRST. Apply it all over from roots to ends. Let it sit for at least 20 minutes. Rinse and then wash your hair as normal with the deep-cleansing aloe vera shampoo. Rinse and then apply the Moisturizing & Detangling Leave In Aloe Vera Hair Mist and style as normal. 
Note: The Leave In Hair Mist is a heat protectant and can be used before blow drying your hair. It will leave your hair soft and silky, while also protecting it from heat damage. 
Steps: 
1. Wash thoroughly with the Deep-Cleansing Aloe Vera Shampoo. 
2. Follow up with the Moisturizing & Detangling Aloe Vera Conditioner
3. Detangle your hair while the conditioner is still in it starting at the ends and working your way up to the roots. 
4. Rinse thoroughly and then apply the leave-in detangling hair mist as a heat protectant before blow drying or styling. 
The Grow & Flow Moisture Boost Kit is a EASY 3 Product System that gives your hair the moisture boost that it needs. 
Do not mix and match products expecting for great results.  The Grow & Flow Moisture Boost KIt contains products that work together to continuously moisturize and detangle the hair. Give this system at least six months and see the major changes in your hair.
We recommend that you use a product line consistently for at least six months to allow your hair time to enjoy the benefits.  To make it easier for you, we offer a subscription that will have your products delivered to you every 30 days.  

Warnings: 
Keep out of reach of children. 
Store at a cool temperature. 
Share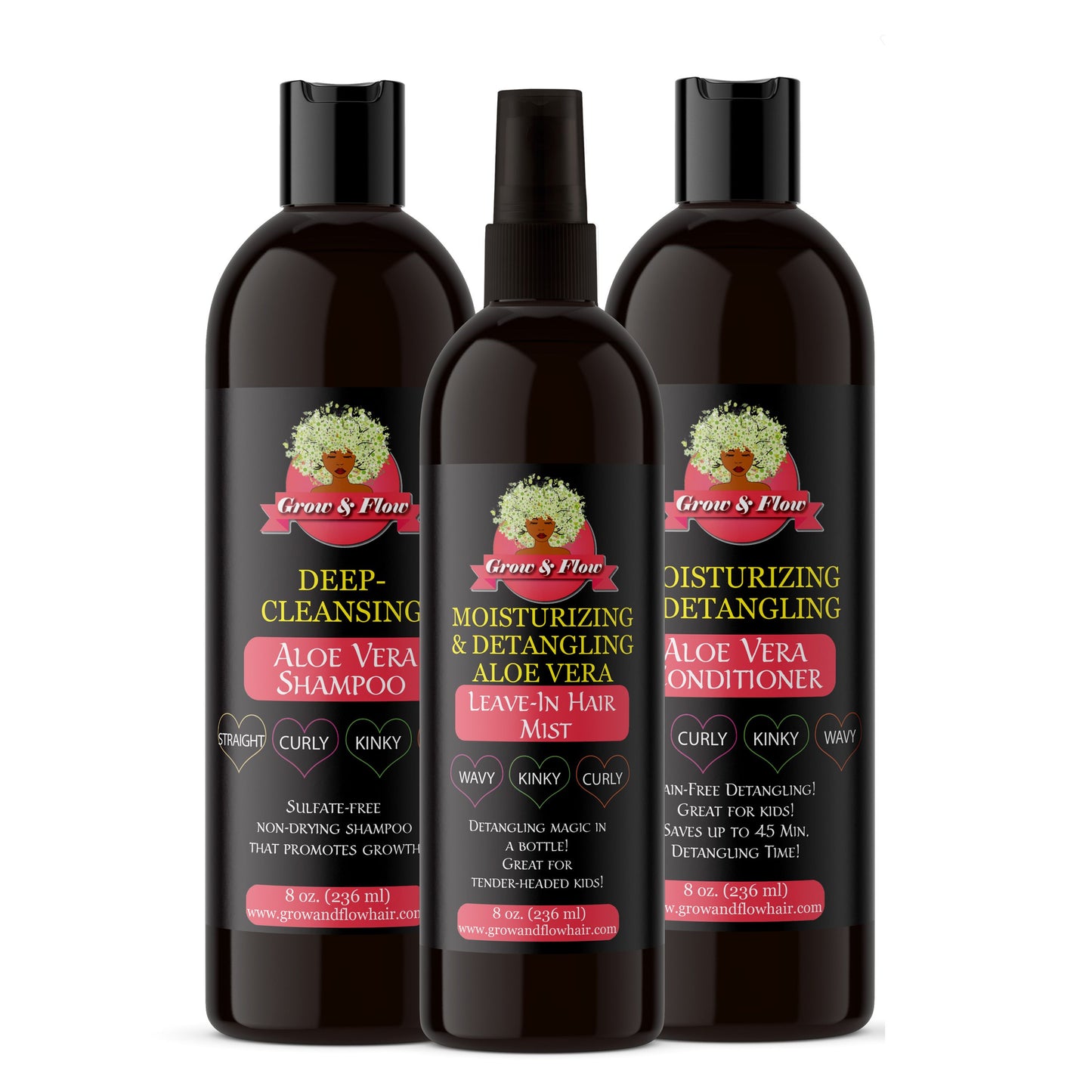 Our Mission
Grow & Flow is a natural hair product line that provides products designed to make it easier for moms to grow, moisturize and detangle their children's hair. We exist to provide quality hair products and hair techniques to inspire black families to love their hair and care for it the right way.