Grow & Flow Moisturizing Hair & Body Butter
Regular price
Sale price
$5.00 USD
Unit price
per
Sale
Sold out
Grow & Flow Moisturizing Aloe Vera Hair & Body Butter is a natural blend of organic oils and unrefined butters that acts as a moisturizing sealant to protect your from dryness and breakage. It literally locks the moisture into your hair. Our hair and body butter is formulated with ingredients like aloe vera, shea butter, sunflower oil and vitamin e oil, which are all designed to keep the hair soft and moisturized. 
Our moisturizing hair & body butter is great for protective styles such as a twist out, braid out, and sleek bun. Or even, ponytails and kids hairstyles. It can be applied daily on both dry and damp hair, as well as skin. 
Do's and Don't of Hair Butter: 
DO
Use hair butter after you have applied our leave-in conditioner and nourishing hair growth oil. It should be the last step before you style. Check out our L.O.C. Kit! 

Use as often as you need, but don't use too much. 

Apply enough hair butter to dry, split ends to prevent breakage. 

Apply hair butter to your scalp, instead of a grease, if you have a dry scalp.

Use for protective styles like wash & go's, bantu knots, braids, twist outs, ponytails, to get a smooth, defined look. 

Use for kids hairstyling. 

Use on your skin to keep it moisturized without leaving an oily feel. 
DON'T
Don't use this hair butter if you are planning on a straightened style. Hair butters are heavy sealants and can weigh your hair down.

Don't use hair butters with a heavy sealant or harsh gels that contain alcohol to prevent product buildup and hair damage. 
  One easy regimen to use the moisturizing hair and body butter. 
Wash with our

sulfate-free

deep-cleansing shampoo of your choice.

Follow up with a moisturizing and detangling conditioner. 

Apply our leave-in detangling hair mist. 

Seal in with our nourishing hair growth oil

Finish with your hair butter

Style as desired. 
#1 Product recommended for moms with daughters. We put these hair goodies in a hair kit for you "L.O.C. Kit" to make it easier for you! 
Size: 4 oz. 
Suggested Use: Daily or every other day. 
INGREDIENTS: 
Organic Aloe Vera Juice, Stearic Acid, Soybean (NON-GMO), Organic Coconut Oil, Vegetable Glycerin, Organic Shea Butter, Organic Argan Oil, Phenoxyethanol & Ethlyhexyglyerin (Eco-Certified, Paraben Free Preservative), Ricebran Oil (Rich in Vitamin E, Vitamin E Oil. 
*Great for styling locs/twists, great for kids, great for naturals, and male beards.
Shipping: Fast shipping. 3 to 5 business days. 
Keep out of reach of children.
Store at room temperature. 
Share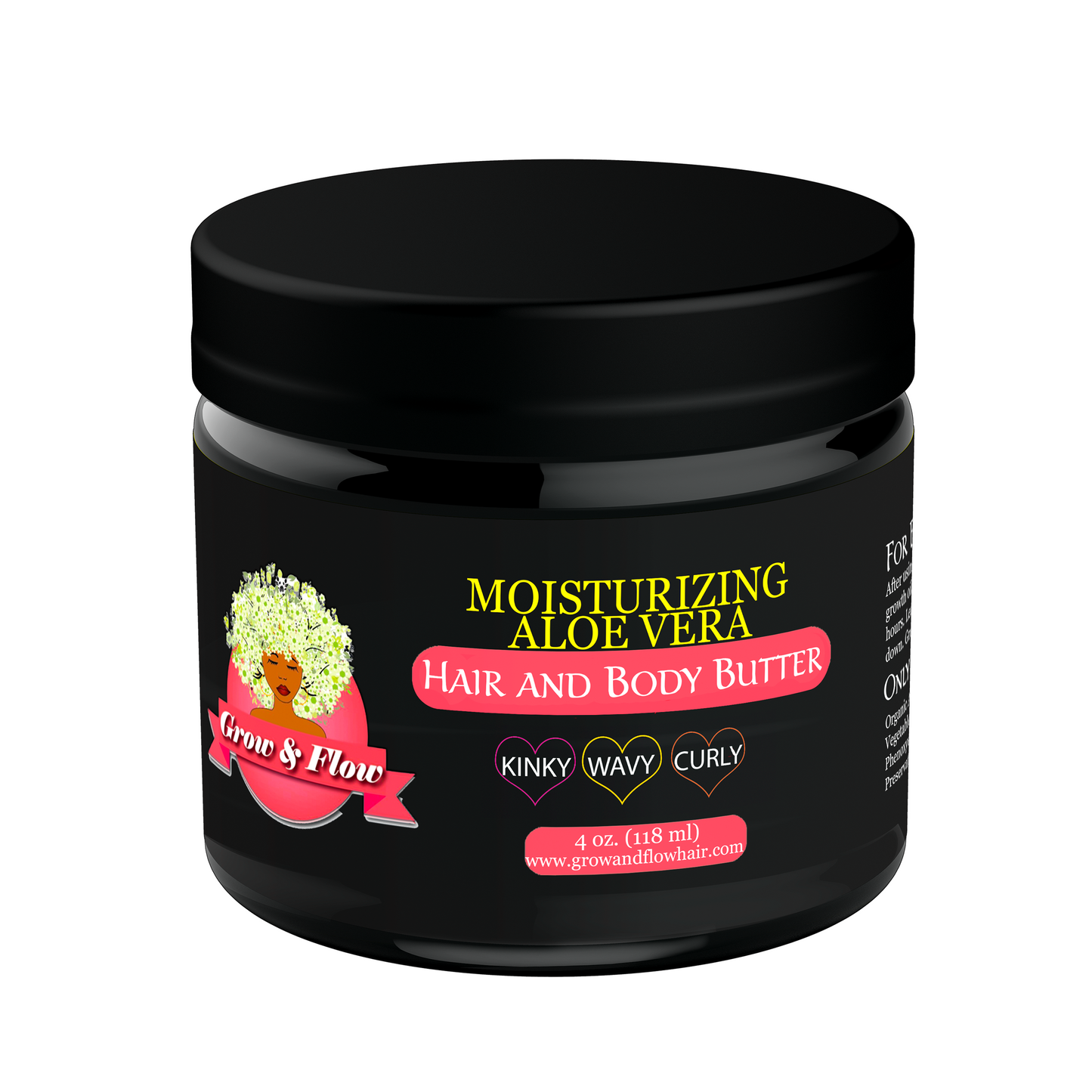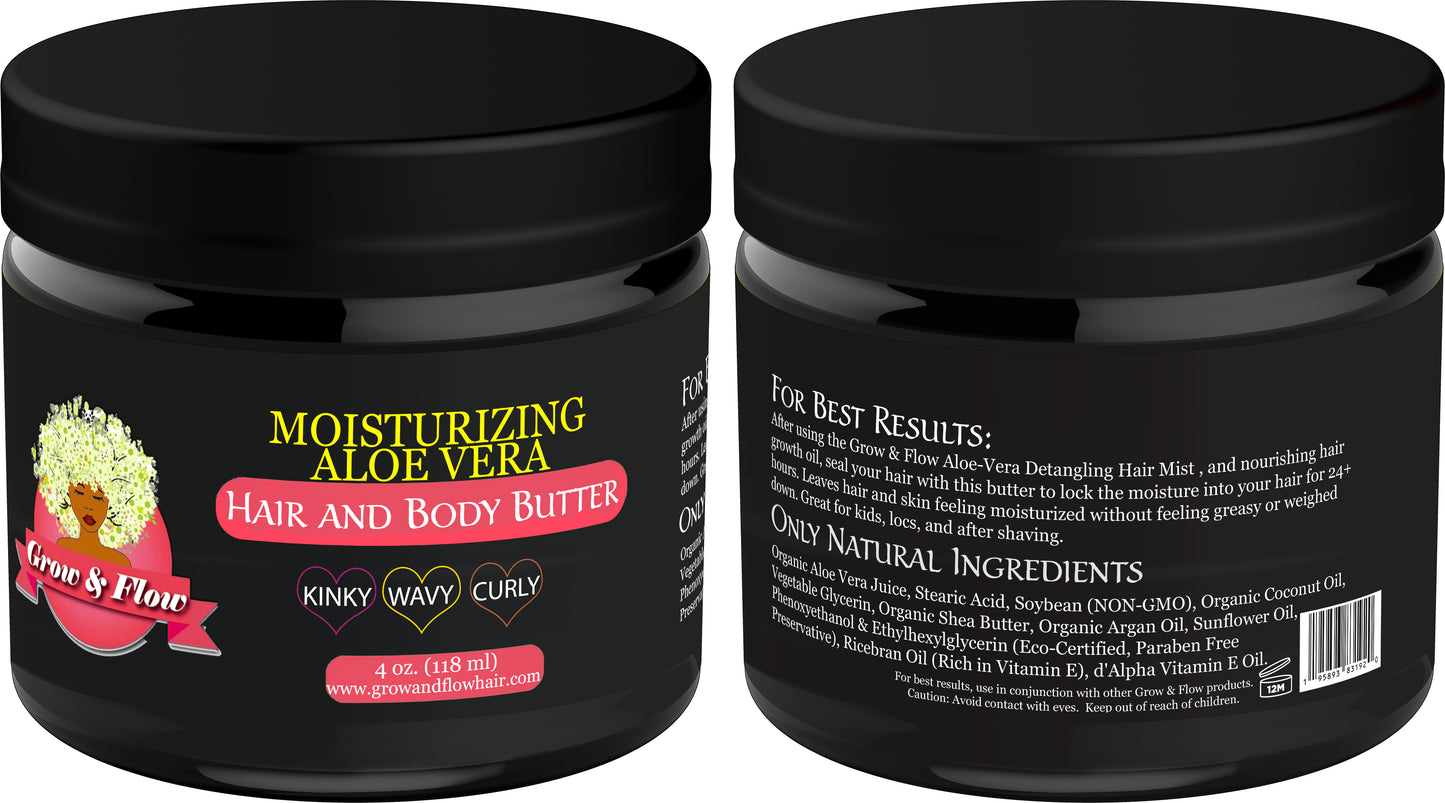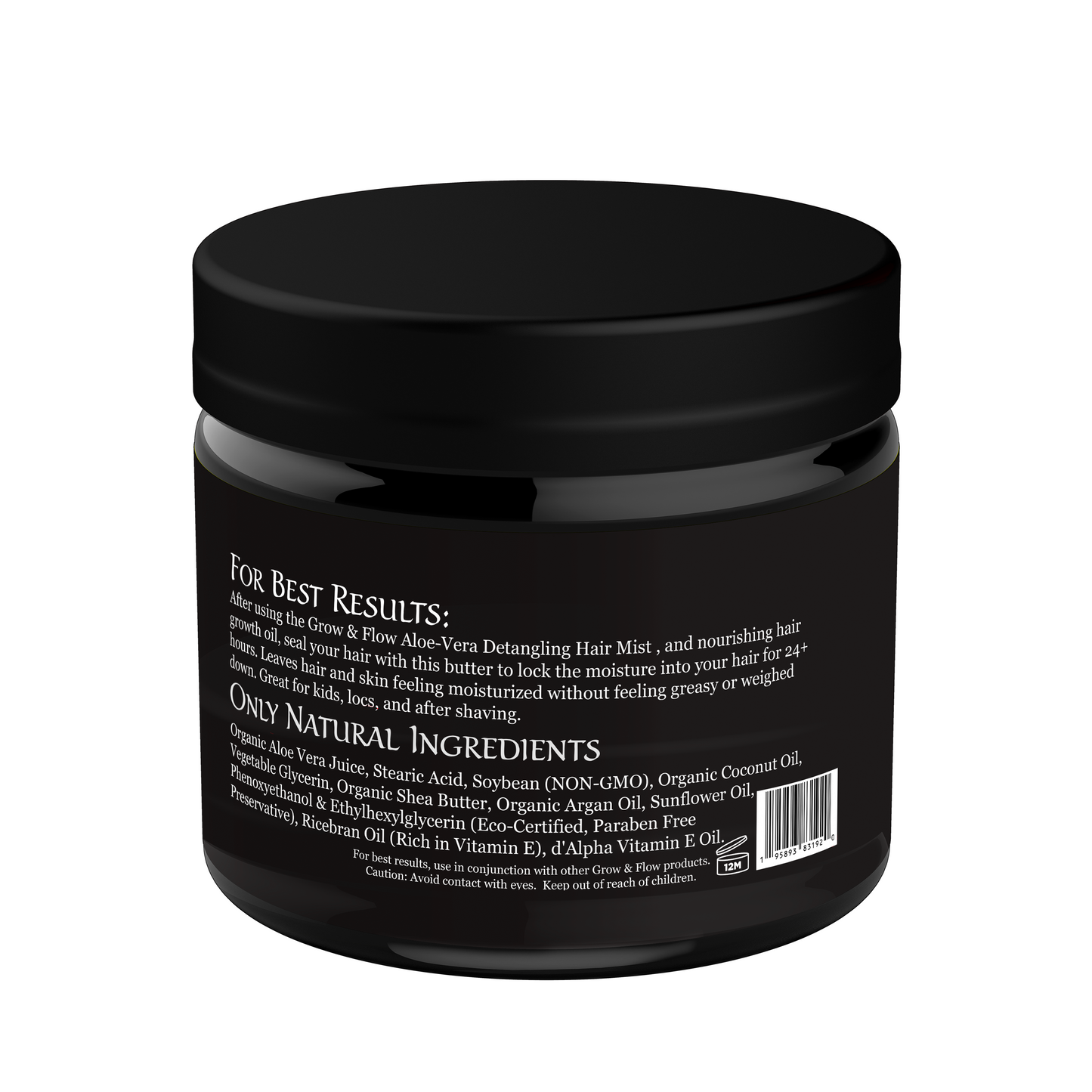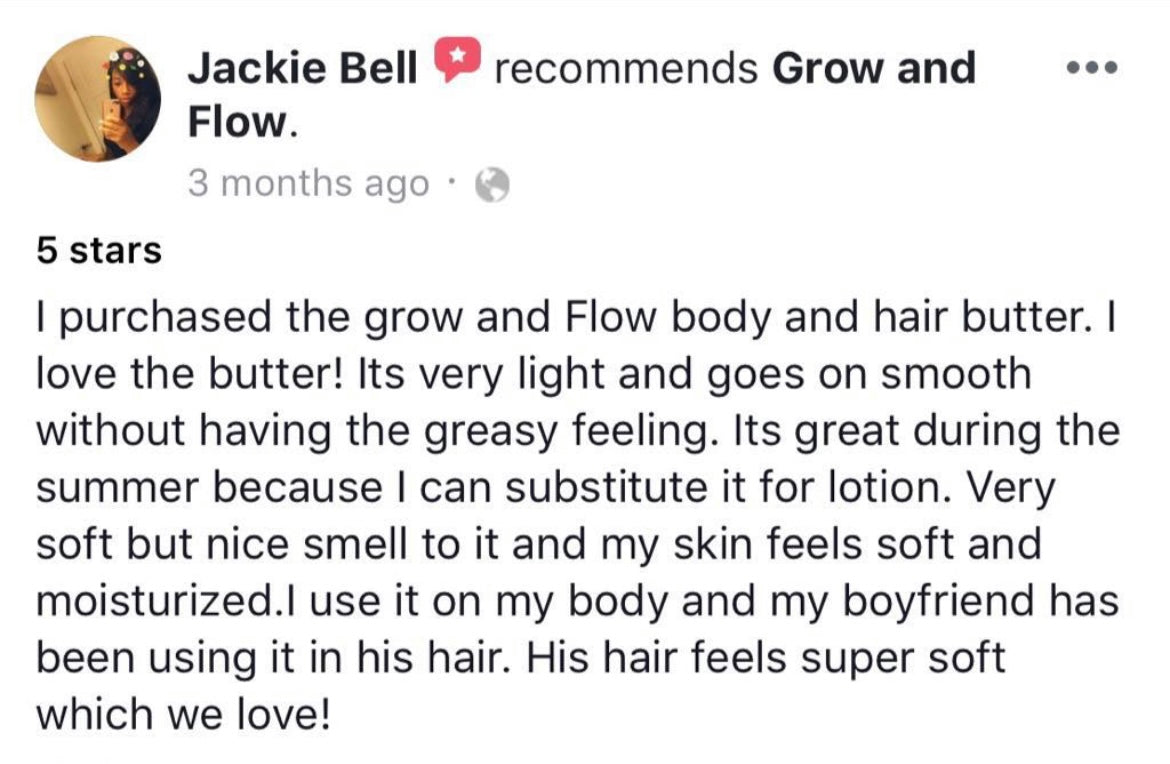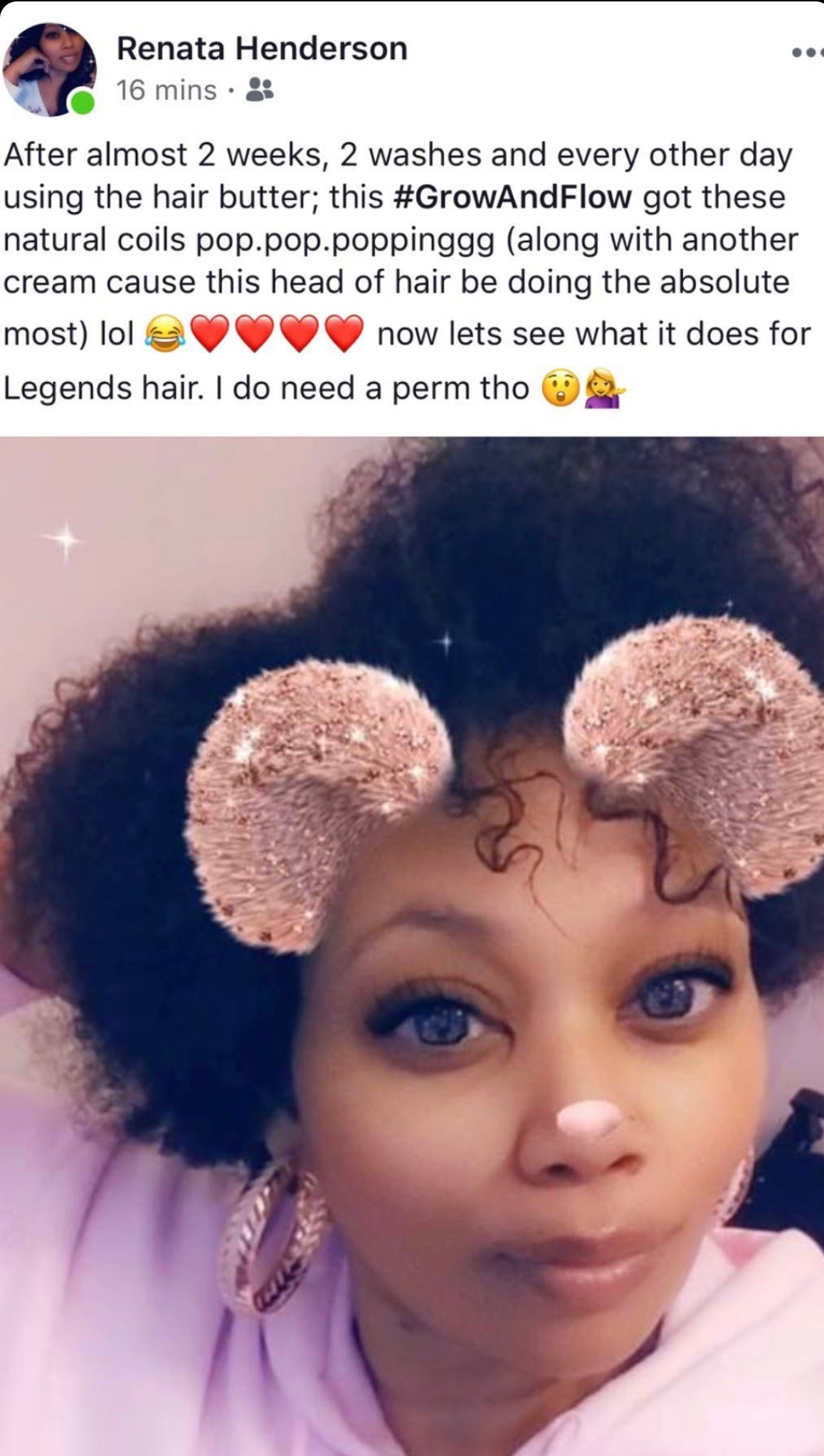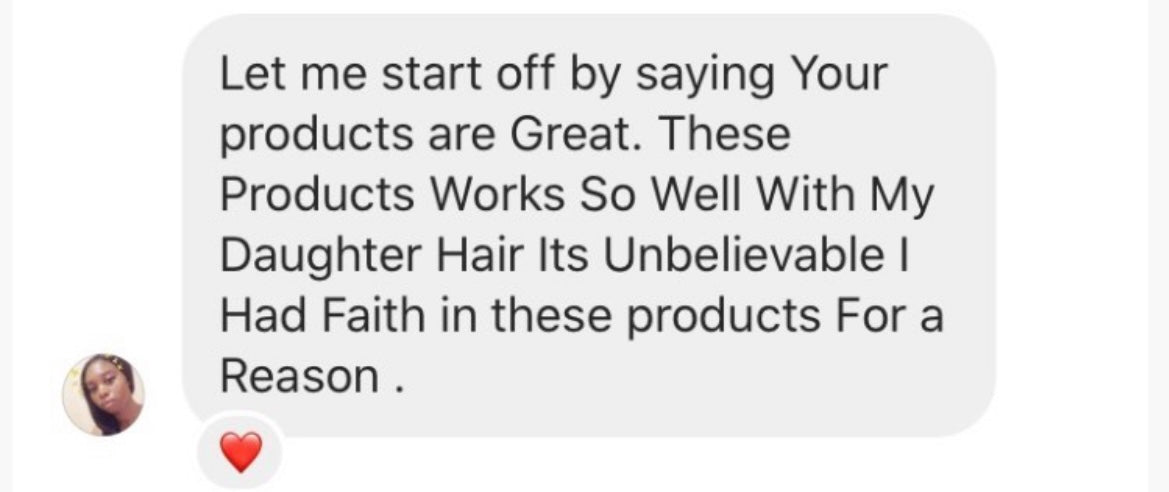 Our Mission
Grow & Flow is a natural hair product line that provides products designed to make it easier for moms to grow, moisturize and detangle their children's hair. We exist to provide quality hair products and hair techniques to inspire black families to love their hair and care for it the right way.